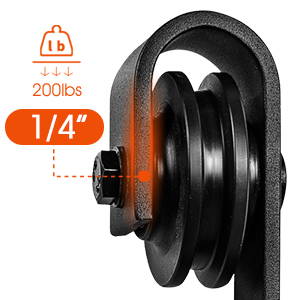 Ultra High-quality Raw Steel Casting
Thickness 1/4 inches. Provide super load-bearing capacity. Maximum weight capacity: 200 lbs. Matte black finish prevents the kit from scratching.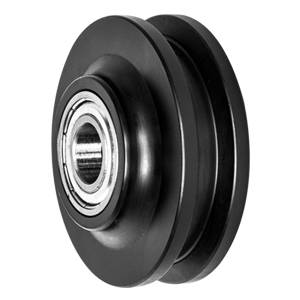 Ultra-durable High-quality Pulleys
Providing a quiet and smooth sliding experience. With feature of Ultra-durable quality, enable to use for years.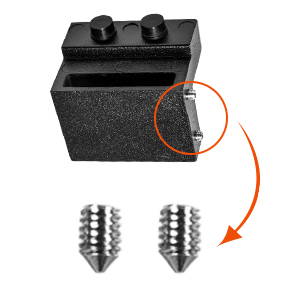 By adjusting the screw, the door can be fixed at any position of the rail to ensure safety, prevent the sliding door from sliding out of the track.
How to Choose Track Length?
Step 1: Measure the width of the door opening. i.g. 32"
Make you you have plenty of room for your door on the wall (left side or right side)
Step 2: Double this measurement. i.g. 32"x2=64"
Twice the width of the door is because you will want to make the door slides.
Step 3: Add 4-6 inches to the step 2. i.g. 64" + 5" = 69" (6' length)
Add extra 4-6", this would be your minimum length of your track.
Done! You get the minimum track length now!
Equation:
(width of door x 2) + (4 to 6 inches of space) = minimum track length.
How to Pick Barn Door?
Step 1: Make Sure the Size of Openning.
Measure your openning before you decide. It seems common sense, but barn door needs more space than typical one.
Standard sizes:
Step 2: Decide Operate of the Door.
Which operate you prefer: one single door, bi-parting, or bypass. (It depends on how wide is your openning.)
48" wide openning can be one single 48" door or two 24" bi-parting doors.
Step 3: Match Your Home Furnishing Style.
K frame is the most popular style, as originated from exterior barn house. Z frame, lower X, double X can also bring countrified twist.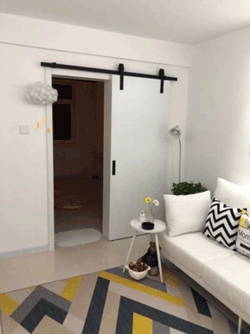 "I did quiet a research to find the best kit for my room. The price was good. We have it now for about half a year. I like it, it saved plenty of space and it is so much more comfortable than before - because we changed the regular door for this one-the sliding one."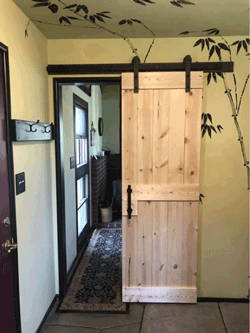 "It was relatively easy to install and turned out very nice."
"It was easy to install, looks awesome, is solidly built, parts are high quality"
"Love this door! Super easy to install, good sturdy quality for the price and looks fantastic. I Ended up buying two the first worked so well"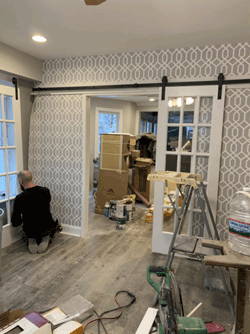 "Great product at a fantastic price. I'm a designer and bought four because I use these all the time and you can't beat the quality."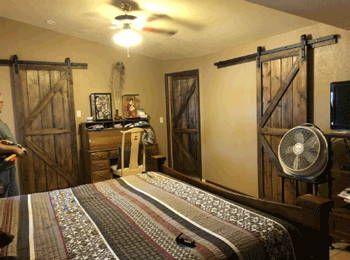 "Easy to follow instructions. Looks great!"